Some top questions about being a Mover
Click to expand and view answer
(You won't find billing issues here, click here to view billing FAQ's :)
Q1. What is MoveGB?
Live Happy. Live Healthy.
When we're active we feel awesome and squeeze the most out of life. We're on a mission to make living a healthy and happy life a lot easier for us all.
Activity is key to this, but we've all been there - joined a gym and then stopped using it after just a few weeks.
Variety is the secret to staying active, so we've teamed up with the best fitness and activity providers to make it easy to workout whenever and wherever is most convinient for you.
Q2. How do I book an activity?
All activities have their own attendance instructions. When you're searching for activities you will see that all activities have a button on the right hand side.
This will say how to attend that activity. Click it to see your screen pop up with detailed instructions! For 'Just Drop In' sessions you just turn up and let them know that you are a MoveGB member and they will ask for the details that they need on arrival. Some classes you can book online, some will need you to call the venue directly and some you'll see we can offer for a coach to book it for you!

If you'd like to see a map and find out more info on the activity just click on the activity name on the search and this will take you through to the activity information page.
Q3. How can I get my friends started with MoveGB?
Just click 'Invite friends' in the menu on your MoveGB page and send them an invite to get started with MoveGB. They will need to create their own MoveGB account so that they can register at the centre.
Here is the link to the same offer! Send it now!
Q4. How much does a Move membership cost?
A Move membership is built around you so the prices vary depending on how much you want to exercise and where. Starting from £1.25/wk up to hundreds to suit top London boutique fitness studios, bottom line is you can't put a price on your happiness and health so we make sure there is something to fit your budget and keep you moving.
Visit your MoveGB page now and click 'Price Plans' to learn more about the plans and see whick would suit you.
Q5. How do I take a break and not lose pre-paid credit?
If you need it then we'd rather you take a break from your membership without worrying about losing out on valuable paid time while you are not using the service.

To take a break from your membership for 3 weeks to 3 months just click the button below to visit this feature in your page and see how much unused credit you have left remaining reclaim simply by setting a rejoin date. AND we'll even give you the unused credit since your last visit back!! How's that for breaking the mould for a fitness membership you're in complete control of!

This cool feature unique to Move can be found in your settings page (click here to visit your account settings page), just click deactivate membership when you need to take a break and select I'm not using it enough.

*You can select a date that is minimum 3 weeks and maximum 3 months in the future, but if you're unsure of the date you'll be ready to start then just select a date more than you think you'll need to be sure and when you are ready to start again just let us know and we'll reactivate your passport for you
Q6. This sounds too cheap to be true?
No, it's true, we send the venues loads of Movers so we get great rates and pay them per visit. This allows us to offer this awesome membership for just a bit more than a normal gym membership!
Q7. What is your fair usage policy?
Getting active once per day is easily enough to keep your fitness at an optimal level so this frequency will be supported by the cost of your Unlimited Passports where your first 7 activities each week are included in your monthly membership fee. If you want to treat yourself to more than seven activities each week then your MoveGB Passport will benefit you by providing you with 10% off the Pay as you go rate of everything you attend.
If you are reaching this highly active level then we want to hear from you and help to share your story with our MoveGB community!
Q8. What are the fees for cancelling late or not showing up?
Both us and our Move Partners do what we can to ensure that we fill all possible class slots.
All classes booked need to be cancelled at least 24 hours in advance if you cannot attend. Classes booked after this time will therefore not be available to cancel. If you booked your class online you can even just click cancel on your reservation to cancel this class up until 24 hours before hand.
If you are still unable to make your class please do contact our team so that we can help try to avoid no-show fees with the venues.
The charge for a late cancellation or for not attending a booked session is the normal Pay as you Move rate of the session. This can be charged as the reports from venues are collected at any time in the month following your missed session but we'll be sure to process them as soon as we can
Q9. You say you provide 'Coaching', what does this mean?
We want to get, but most importantly KEEP you active. We pride ourselves on providing an awesome service and have a team of Move Coaches whose sole job is to work with you to keep you active - kinda like your own personal fitness shopper! Feel free to call us any time on 0345 519 6626.
Q10. Who is this person who keeps talking to me?
Our coach team are here to help and we like to reach out to you to ensure that we do what we can to get you moving towards your goals, it's our only job!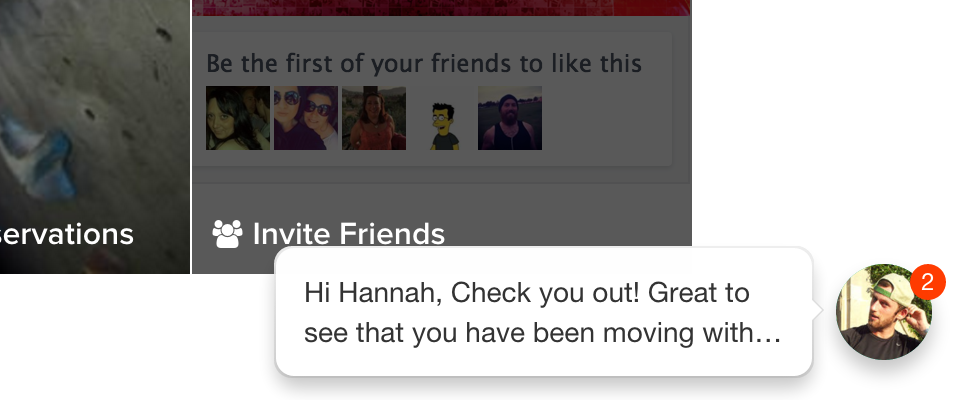 So don't be afriad, say hi and see if we can help you find new activities that suit you!
If you have ANY questions at all or just need some help managing your MoveGB account please use this messenger to fire over your thoughts, or just call us if it is more urgent. Our number is 0345 519 6626 and we're here to help 8am - 9pm Monday to Friday and 8am - 6pm on Weekends.
Q11. Is there a contract?
No, the whole point of Move is it's a membership designed around YOU. So you choose when to downgrade, upgrade, cancel or freeze. All instant and all online. Finally a fitness membership you can control!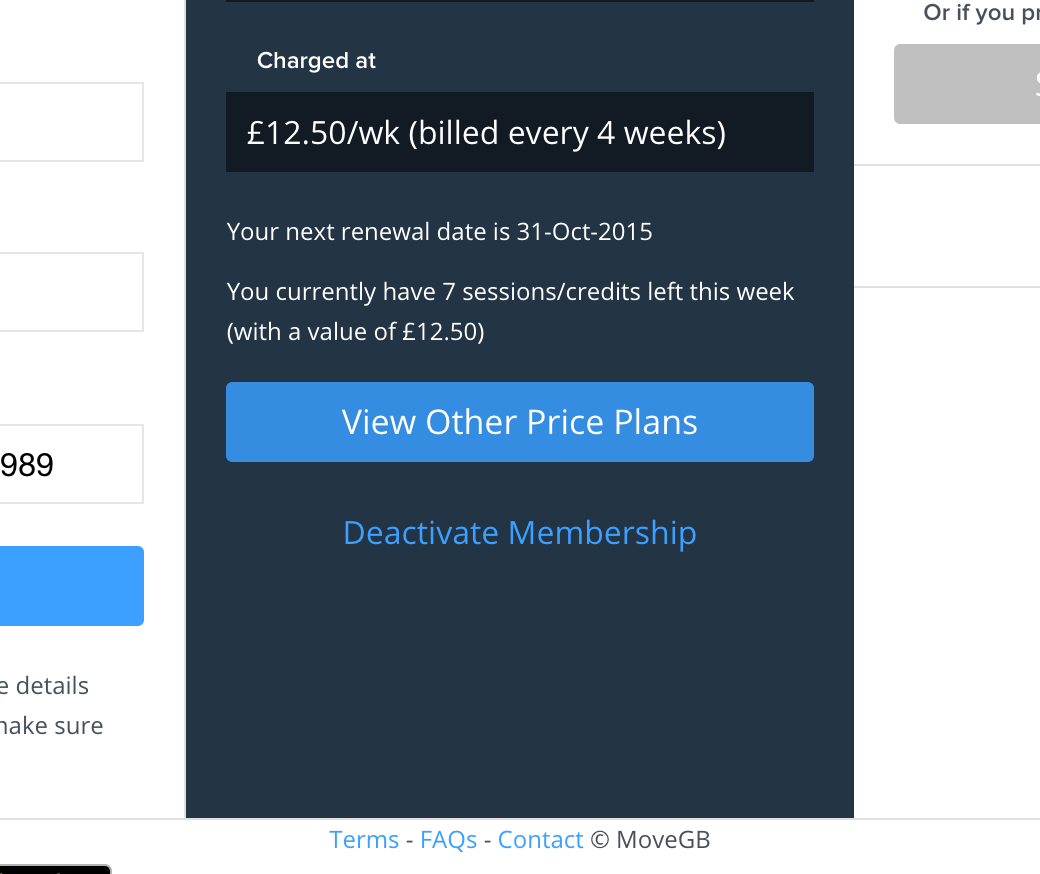 To change your membership plan or deactivate it for a while just click here to visit your account settings page and you'll see these options available at the bottom of your membership settings column
Q12. How do I freeze my membership?
Freezing your membership for a short break costs £1.25/week. On your requested date you will return to all unused time. A service unique to MoveGB! If you wish to attend an activity in this time for any reason then you still can and you'll just pay but with 10% off of the rate.

*You can do this up to 5 times every year so is ideal for using over breaks for holidays or the big annual intense work week!

To get this sorted before the manic packing for your trip begins, just click here to visit your account settings page, then click deactivate membership and select I want to freeze my membership.
Q14. Can I request a new venue?
Our team at MoveGB is working hard to make the widest range of activities in the UK available under one membership, this means that we are always on the lookout for new activities and venues to add to our list.
If you are looking for an activity or venue and cannot yet see it on our search page, then we will promise to contact them and do our best to make that available to you with your MoveGB Passport so that you can keep active doing the activities that you want. You'll even be the first to know when we are able to make them available to you in your Move Membership.

Help us to make MoveGB the way that you want it and click here to make a new partner request!
Q15. The website will not accept my payment card :(
If you are having trouble with our site accepting your payment card it can be for a number of reasons such as banks overprotective processes or transaction errors which we totally understand can be very frustrating.
Calling our coach team on 0345 519 6626 is the best way to get help adding a new card, however our Direct Debit option available through GoCardless is far simpler to control and more reliable meaning that you won't miss your payments and as a result your beloved weekly workouts!
To upgrade FREE to direct debit payments just click here to visit your account settings and look for the 'Set Up Direct Debit' button shown below.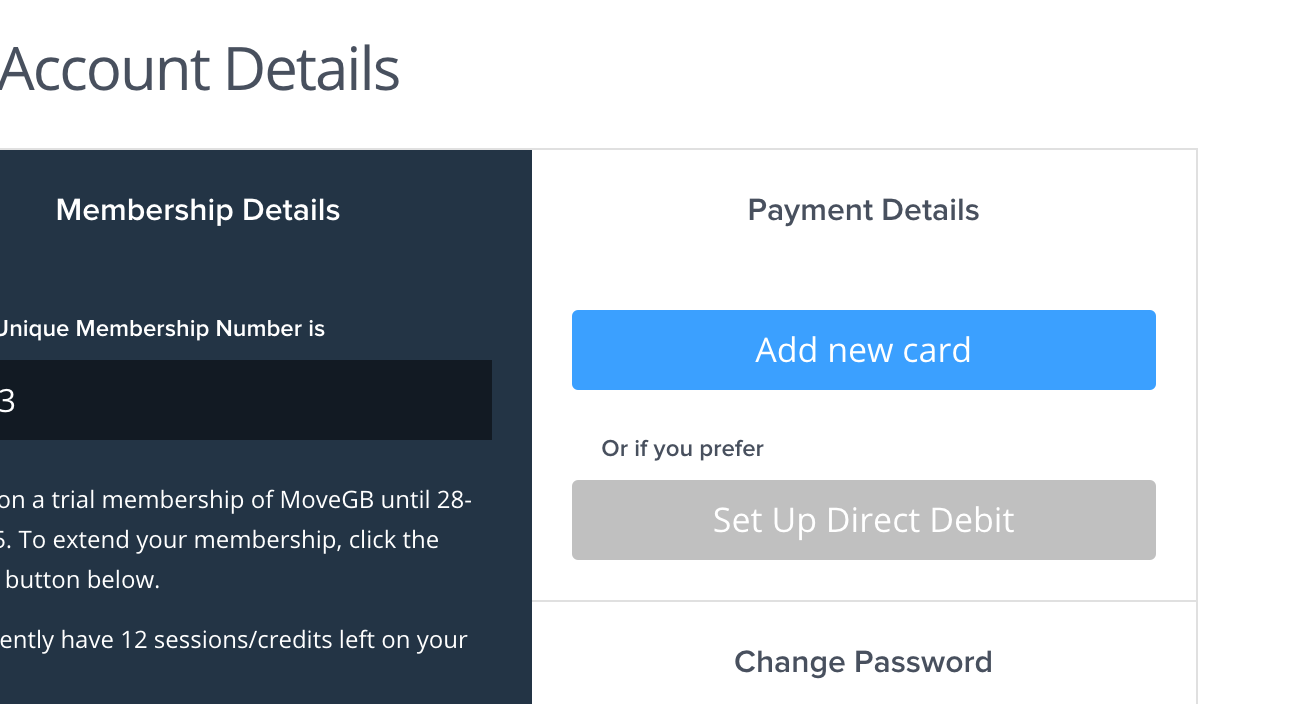 Q16. Do you have a Blog?
Ok this isn't a frequently asked question, but we do and we are proud of it - so check it out